Assembly instructions for
first holy communion banner
Before you begin, make sure you check the contents of the Banner Kit. (see below)

1. Let your child know that you will be putting together their First Holy Communion banner and while we do it, we are going to think about how the bread and wine (grapes) become the Body and Blood of Christ.
2. Watch Video - the video goes over the Last Supper and how we reenact the Last Supper during every Mass we celebrate.
3. Review the video and answer any questions your child might have.
4. In your child's Bible go to Mark 14:22 - 23. There should be a "STORY," "UNDERSTAND IT," "LIVE IT" and "TELL IT" near the section. In my bible it's on pages 1560-1561
Read with your child the "Understand it" in Mark 14:22

Keep your bible open to that page.
5. Pull out the banner pieces and talk about what each piece symbolizes
Bread - Bread
Grapes - Wine
Chalice - Blood of Christ
Host (white circle with cross) - Body of Christ
Hearts - Love
Doves - The Holy Spirit
Cross - Symbolizes God's love for us. Christ died so we could have everlasting life. John 3:16 [For God so loved the world that he gave his only begotten Son that whomsoever believes in him shall not perish but have everlasting life]
6. As you assemble the banner, use the bible Mark 14:22-23 to reenact the last supper using the bread and grapes then the host and chalice as you glue each piece onto the banner.
7. When you get a chance before you complete this activity, talk to your child about how he or she is feeling about receiving First Communion and share your own stories with him/her about your own First Communion (if older siblings or other people in the house receive Communion then have them talk about about their experiences as well).

7. When you place the big felt strip, DO NOT WRITE YOUR CHILD'S NAME ON THE LARGE FELT STRIP. We will do that for you. Put the banner back in the envelope and write your Child's First and Last Name on the envelope. We will write your child's name on the banners for you.
Samples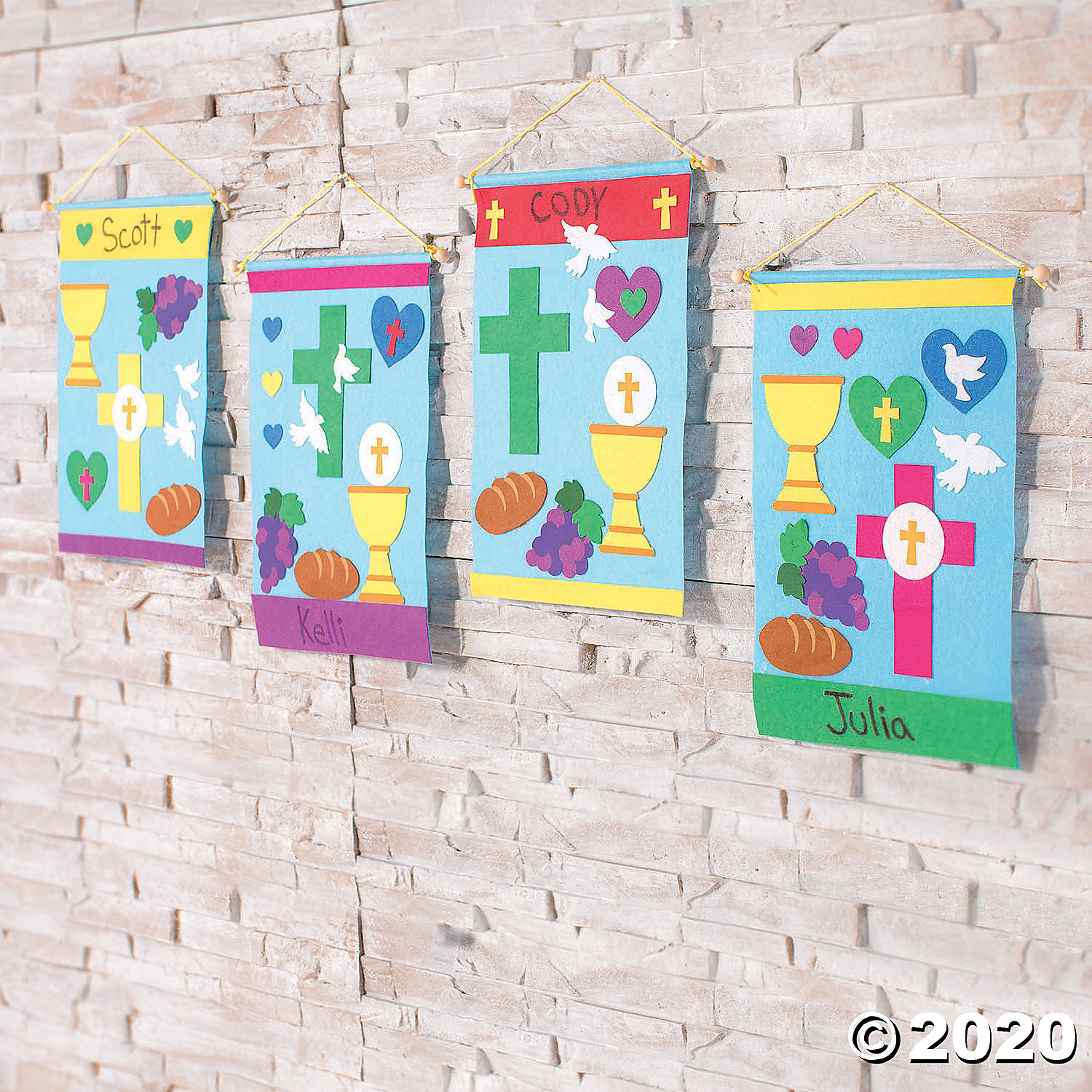 Kit Contents